We help guide you to success
Integrate a unique partnership programme
A range of partnerships Adapted to your goals
01
DISTRIBUTOR
We help you win clients and handle customer relations.

Additional revenue for you from a growing market.

02
RESELLER
Thanks to your sales strategy we identify and successfully see through a larger number of projects.

Actinic takes care of the technical side of things and gives customers the support they need to succeed.

03
EXPERT
We help you gain a high level of skill in Ecommerce to grow your business quickly. Benefit from our expertise in marketing strategies to generate the maximum number of projects.

Manage the full sales cycle with the support of the Actinic experts to help you succeed in Ecommerce.
Our clients are very happy to be able to see concretely all of the potential Ecommerce offers them and the opportunities for additional turnover. Our advice on this subject is always well received. Our keen knowledge of how to configure their ERP software gives us a major advantage for winning new markets.
P. Chemla – Pointex Actinic Partner

Every client meeting is a chance to present the business opportunities Ecommerce offers. Our proposal is met with enthusiasm! The combination of the best Ecommerce solution on the market and our knowledge of how to configure our clients' ERP software is a major advantage for winning a share of the market.
D. Quiles – Crif Informatique Actinic Partner
Actinic Partnership Programme
Our experts are here to help you with your Ecommerce endeavours each step of the way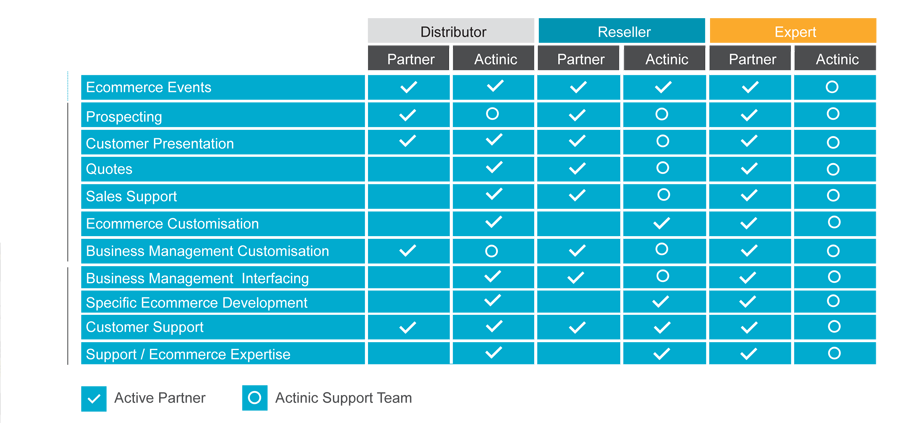 Take advantage of favourable conditions And reap the benefits

Advantages of the Actinic Ecommerce Programme


Actinic Partners

For you, the Partner
A free test site



Up to 20% off Actinic Services


Design
SEO
Support



For your clients

Up to 30% off Actinic subscriptions


Bronze
Chrome
Silver
Gold
Platinum



Follow Training

1-day initial training


Continuous remote training



Win Customers and Foster Loyalty

Actively promote the solution


Sell subscriptions